Leading Through Crisis
An online course to help you successfully steer your organization in turbulent times.
Protect Your Business
Have Confidence in Crisis
Succeed with Resilience
Can your organization thrive in crisis?
You've watched the news. You've seen the scary stuff happening in the world. The future is uncertain, and you're now facing one of the greatest tests of your leadership.
How can you prepare for something you didn't see coming? How can you best respond to the challenge instead of reacting to it?
It's natural to feel anxious during a crisis, and as a business owner or leader, your people are waiting for you to step up and give them courage.
You can emerge from the challenges of today with a stronger, more resilient organization. We can help.
Order Now
Leading Through Crisis

is the leader's guide to succeeding in turbulent times.
As the former CEO of a $250M corporation and the founder and chairman of a multimillion-dollar, leadership-development company, Michael Hyatt knows what it's like to respond to a crisis as a leader.
During the recession of 2008, Michael Hyatt faced a challenge with Thomas Nelson Publishers. Many were fearful about the state of our economy and looked to him for guidance. But Michael and his leadership team implemented a gameplan that resulted in saving the company and allowing it to thrive in the toughest economy.
In Leading Through Crisis, Michael wants to equip you with the strategy to emerge successful in crises like COVID-19. This online course will teach you how to . . .
Ensure a steady, reliable mindset no matter how bad it gets
Use simple practices to ground yourself in 4 areas and set the stage for confident decision making
Assess your unique vulnerabilities in the 4 most important areas of your business
Create a tiered, risk reduction response using my 4 step process
Identify the opportunities most advantageous to your business from least risky to most risky
Create an effective communication plan for your team and customers that inspires confidence in you and them
Tools and Templates to Guide Your Organization
In the course, you'll receive downloadable tools and templates to help your organization fight the COVID-19 crisis and other challenges you may face in the future. Includes tools such as:
Personal Resources Inventory, to take stock of the resources you have to combat crisis.
Grounding Habits Record, to help you win the battle in your mind as you implement your action plan.
Business Vulnerability Assessment, to help you assess your top 5-7 vulnerabilities in the business that need to be addressed now.
Risk Mitigation Planner, to organize your response to each of the risks you face.
Crisis Opportunity Maximizer, to distill your thinking into a product plan for thriving amid the crisis.
Crisis Communication Planner, to strategize the when, how, and who behind communicating your action plan.
Layoff Decision Maker, to help you decide if layoffs are necessary and take the right next steps if they are.
Cash Flow Scenario Planner, to forecast your cash flow and see what's on the horizon for your business.
Once you complete this course, you'll have the tools and strategies you need to confidently lead in turbulent times.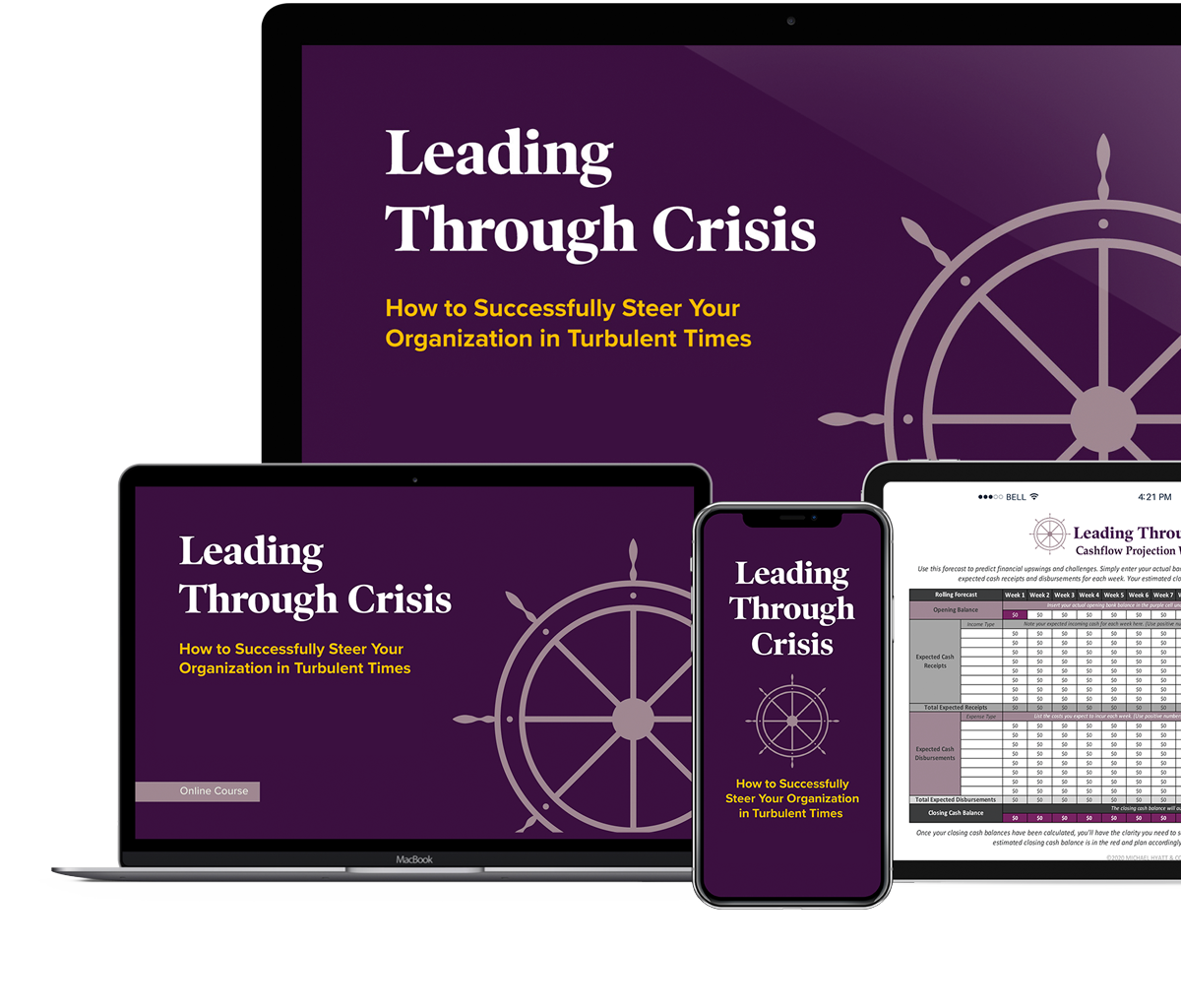 "Holy cow. I just finished Leading Through Crisis and it was exceptional. I feel less anxious, well-informed, and more prepared to move forward. I feel confident that as I finish the exercises in the workbook I will be able to communicate my plan more effectively with my leadership team, the rest of my team, and my customers. That feels incredible!"
—Amy Porterfield, Host of the Online Marketing Made Easy Podcast
Lead Your Organization Through Crisis
Six sessions. With six packed lessons, you can prepare and protect your organization from crisis.
Eight tools for immediate implementation.Build your crisis action plan with the help of eight tools and templates.
A repeatable, proven process for any crisis. You will have a gameplan for handling COVID-19, economic uncertainty, and any obstacles to come in the future.
Leading Through Crisis is for . . .
Business owners
Managers, directors, and team leaders
C-level executives
Nonprofits
Ministry leaders
Entrepreneurs
Operational leaders
And anyone who wants to lead their organization and team well during turbulent times.
Invest in a Confident Future
Course
$497 $297
The complete 6-module curriculum (audio and video).
Downloadable workbook.
Eight proprietary tools for taking action.
Access anywhere.
"I am so grateful for the content of this course. It's exactly what I needed to lead through the crisis. After finishing the course, I felt confident in three main things: 1) I now know the components of responding well to a crisis, 2) What language to use to communicate our efforts, and 3) Why it's important to communicate and to do it often."
—Todd Irvin, CEO, Executive Elevator
FAQs
What's included in Leading Through Crisis?
When you register for Leading Through Crisis, you get full access to six modules that'll teach you how to respond to a crisis as a leader and prepare your business. You'll also receive assessments and proprietary tools to help you immediately implement the material.
Will this help me with the COVID-19 crisis?
Yes. After going through the course, you'll have the tools, templates, and strategies to respond to the COVID-19 crisis with confidence. This course will also help you beyond the COVID-19 crisis, to handle any troubles that threaten the future of your business.
Do you offer refunds for the course?
Yes, we offer a limited 30-day money back guarantee.
To qualify for a refund, please contact support at fullfocus.co/coursesupport and click on the Request a Refund button.
Once we have received your request, your refund will be processed within 2 business days.
How long will I have access to the course?
You will have lifetime access to the course so you can be equipped to handle any crisis.
What if I have more questions?
We are here to help. Simply visit us at fullfocus.co/coursesupport and click on Leading Through Crisis, and we'll be happy to assist you.
You and Your Organization Can Succeed in Crisis
The unknown does not have to threaten the future of your organization. With the right tools and strategy, you can emerge from a crisis stronger. With Leading Through Crisis, you can thrive in the midst of your greatest challenges. Order the course today.