Great Ideas You Can Borrow for Your Own Team
Starting and growing a company is tough stuff. Just ask the 80 percent of entrepreneurs who fail within the first eighteen months of hanging their shingle.
With data like that, it's not surprising that those who do stay in business want to celebrate the big wins—and the smaller ones, too. And if you're looking for a reason to pop your own cork, some experts believe that celebrating accomplishments can actually lead to more success.
Naturally, the ways companies celebrate are as varied as the companies themselves, and the industries they occupy. So here's a look at five you may want to borrow for your own team.
Paying it forward
Achieving a major company milestone is certainly a reason to throw a huge party, and celebrating twenty-five years in business definitely qualifies as "major." Yet for Dream Events and Catering, a full-service catering and event company based in Nashville, Tennessee, spending a ton of cash on a fancy soiree didn't seem appropriate. Instead, the community-driven firm decided to celebrate others.

Last summer Dream embarked on its Summer of 25 Dreams campaign, a pay-it-forward style effort that focused on "feeding, empowering, supporting, championing, creating, and committing acts of dreaminess all over Middle Tennessee."
"One half of our goal was to give back to the community that has supported Dream through the years," explains Dream owner Becki Annastas. "The other half of our goal was to engage our team in one of our most important core values—giving back and treating people the way you would want to be treated." The end result was nearly two hundred hours volunteered to support over 2,500 people across fifteen Nashville-area causes.
"For our team, it's about being part of something bigger than ourselves," Annastas says. "Our projects give the staff opportunities to connect with each other and work together, while feeling really good about the work they are doing. Our team also knows the more successful our company is, the more we can give back to our neighbors and community, and that motivates them."
When celebrating is your job
What's the best way to ensure that celebrations are baked into company culture? Hire someone who specializes in fun.
"We've created a full-time position called Director of Happiness," says Darren Schreher, hiring manager for Into the AM, a $20 million-per-year apparel brand and four-time member of Inc. 5000. "The primary responsibility of the position is team member engagement and morale. We've also made sure that clear goals are set for each team member which are measurable and broken down annually and quarterly. As a result, every team member knows what winning looks like."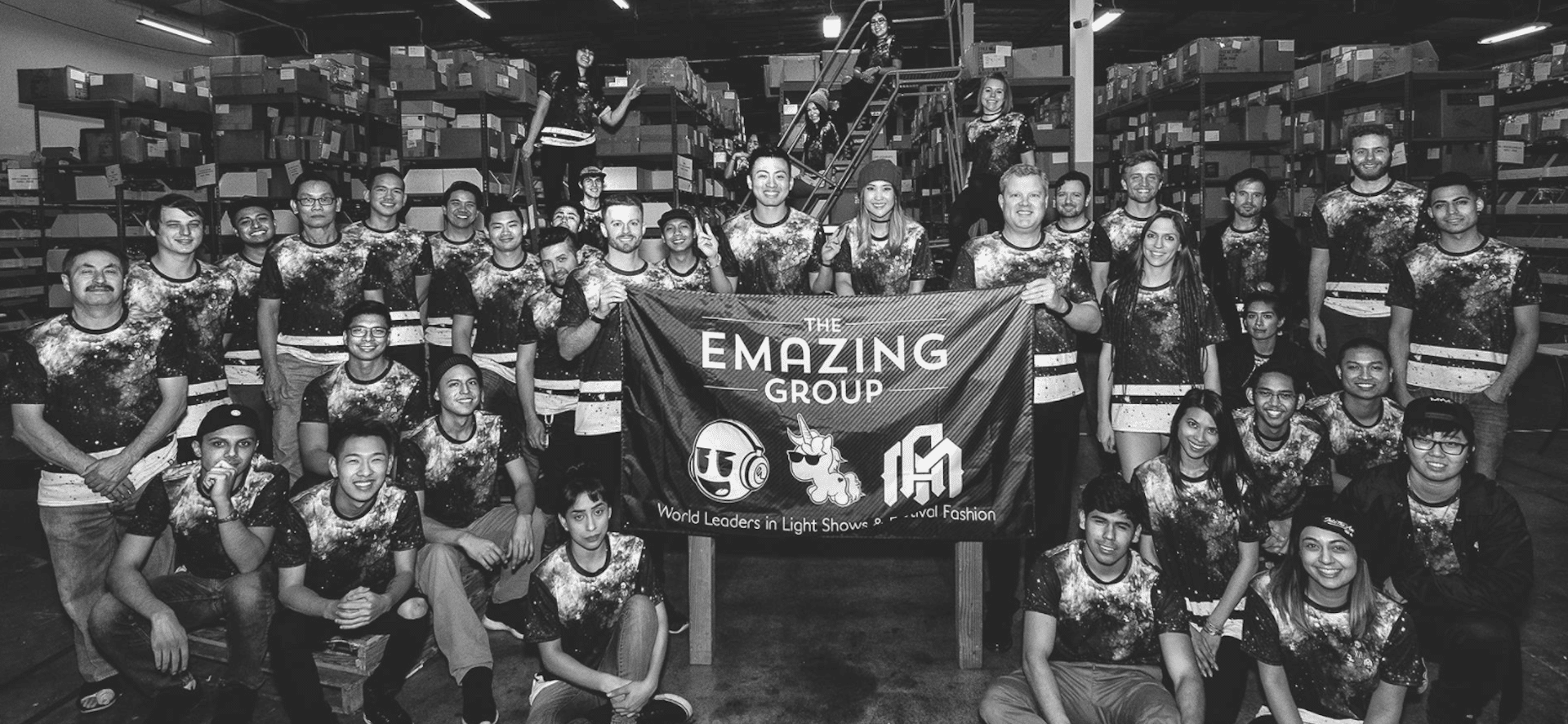 And when team members win, it's a big deal. "We provide transparent and open recognition, which is given by fellow team members and then projected onto a ten-foot-high screen on the front wall of our office," says Schreher. "Additionally, we give personalized birthday celebrations, free music festival tickets as rewards, and a team member of the month award worth $500."
If it sounds like the company celebrates a lot, it's because they do. And according to Schreher, it's all by design. "We take our company culture and team member engagement very seriously around here, and we have lots of programs and efforts toward maintaining a high level of satisfaction," he adds. "We are certain that these kinds of initiatives lead to decreased turnover and happier employees."
Going worldwide
According to a recent Gallup survey, 43 percent of American workers spent at least part of 2016 working from home. And while that statistic may move employees closer to achieving that ever-elusive "work-life balance," it can complicate team-building efforts within a company and make it especially difficult to celebrate together.
But that's not an issue for some companies.
As the CEO of MonetizeMore, an ad-tech company, Kean Graham manages full-time staffers that are literally based around the globe. And once the company surpassed the $10 million gross revenue mark in 2017, he didn't hesitate to plan a company retreat that will take place in the Philippines this March. "The retreat will be a great opportunity for team members to meet face-to-face for the first time, gain rapport, bond as a team and, of course, celebrate together," Graham says.
Is it costly to fly nearly 100 people to a tropical island in Southeast Asia? Sure. And is worth it? Absolutely, says Graham.
"While these are expensive, the return is immense," he explains. "The chance to have non-day-to-day conversations is often the spark to great ideas, builds company loyalty and increases morale and motivation. After each retreat, each team member is fired up and the company is equipped with several new innovations which improve the direction of the company."
Stop, drop, and party!
Customers—and the cash they represent—are the lifeline of any new company, and since launching their company in 2013, it's something the Aisle Planner team has never forgotten. Now, each time the tech platform signs a hundred new companies to take advantage of Aisle Planner's cloud-based business and project management tools for wedding and event planners, the whole team stops to celebrate. Immediately.
"We call for an immediate drop-what-you're-doing happy hour of sorts and pop open a bottle of champagne to celebrate," says Katherine Oyer, Aisle Planner's Director of Public Relationships and Brand Partnerships. "One bottle spread throughout the entire team might only allot to a small nip, but the act of pausing to celebrate our continued success creates a warm "bubbly" feeling in us all. We have a superstition that if we don't open the bottle ASAP, we will start to lose customers!"
The toasts are apparently working. Oyer notes that Aisle Planner has a very small churn rate, so they tend to view each new customer as a lifelong partner. And that's all the more reason to make celebrating an urgent priority.
"Each time we hit a hundred new companies it's a big deal because many of us remember the days that we would celebrate every ten new companies that subscribed," says Oyer. "We find it important to celebrate immediately because that special moment doesn't last. It's still exciting to see the company be successful, but a few days later it seems to lose some of its shiny excitement."
Adding a personal touch
It may take a village to raise a child—and it also takes one to grow a successful business. Lisa Chu, CEO of Black n Bianco, understands this fully and makes it a point to personally honor each employee for a job well done.
When the online seller of kids' formal clothes recently secured a large purchase order from an overseas retailer—a deal that took over six months to finalize—Chu gave each team member a hand-written letter and performance bonus to show her appreciation for their hard work and dedication. "No contribution to this success goes unnoticed," she explains. "My employees are the backbone of my business, and I always do whatever I can to ensure they are emotionally satisfied."

Along the way, Chu has also discovered that this emotional satisfaction doesn't just make her employees happy—it makes them more productive as well.
"By sharing this success with my employees and their families, it helps maintain a healthy and happy relationship with everyone in my company," says Chu, who hosted a party with employees and their family members to celebrate the new order. "I go out of my way to recognize my employees because I care about them. When my employees feel their company truly cares about their wellbeing they are more productive, efficient, and motivated to succeed. It's a two-way relationship where both parties benefit."