Being great at what you do is about more than being a competent professional or a skilled craftsman. It's not enough to deliver a great product or service. It is about the total customer experience, from the first encounter until the last—and everything in between.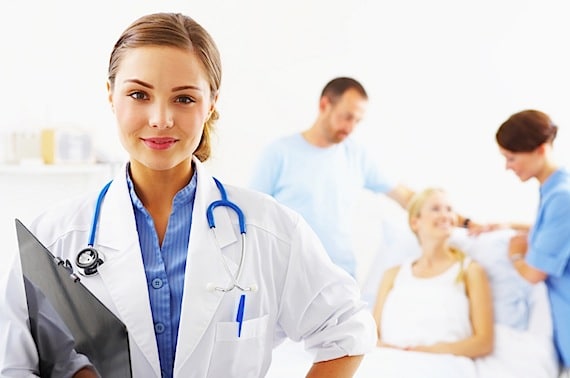 Photo courtesy of ©iStockphoto.com/Yuri_Arcurs
A few months ago, my eye doctor discovered that I had a "bubble" on my retina. He sent me to a renowned retinologist in our area. This new doctor confirmed that I was at risk for a retina detachment. He recommended that he "spot weld" the retina with a laser to scar the tissue so that it wouldn't tear. It was a simple procedure and went without a hitch. No question, the doctor was very, very good.
However, last week I went back for my follow-up appointment. Based on what the doctor had told me previously, I was certain this would be a quick "in-and-out." I assumed I'd wait 15–20 minutes—which had been typical in my experience with this doctor—and then a quick five-minute check-up.
As I expected, the nurse saw me almost immediately. She dilated my newly-repaired eye and then asked me to have a seat in a second waiting room. "The doctor will be with you in just a minute," she assured me.
Not so much.
The waiting room was jammed. That should have been my first clue. There were only two seats left when I entered. That made me nervous, but I didn't think too much about it. Still believing this would be a quick appointment, I had not fully charged my iPhone (which has a notoriously short battery life) nor had I thought to bring a book. That proved to be a bad decision.
An hour later, my iPhone gave up the ghost. None of the magazines looked appealing, so I watched CNN on the TV in the waiting room. The sound was turned down, so I could only watch the video and the headlines as they scrolled across the screen. I was bored stiff.
I tried to be patient, but I kept looking at my watch. I wanted to scream. One by one, they called the other patients. But I continued to sit. Finally, after nearly three hours—I am not making this up—I asked the nurse if they had forgotten me. She said, "Let me check." She came back after about five minutes. "Mr. Hyatt, it looks like you are next." Right.
Soon another nurse called me into an examination room where I sat for another 10 minutes. The doctor eventually came in, laughing and flirting with his nurse. He didn't apologize. He simply said, "I'm running a little behind today. We've had a few emergencies." He then took five minutes to examine me, decided everything was as he expected, and then sent me packing to the cashier.
Suffice it to say that I was not a happy camper. Unfortunately, I just written a post about being patient with poor customer service. (Note to self: don't write any more posts on patience!)
Regardless, it was a good reminder about the need for anyone in business to focus on the total customer experience. I extracted five lessons that I want to instill in my own business:
Appreciate the value of your customers' time. Yes, the doctor was busy. But so was I. I had several things planned for that afternoon, but they were all scuttled. I seriously thought about sending the doctor an invoice for my time. Do I value my customers' time?
Don't make your customers wait. My primary care physician does this best. He has a sign prominently displayed in his office: "If you have waited more than 10 minutes, please see the nurse." I have never waited more than 10 minutes, and that's one of the reasons I keep going back. How long do my customers have to wait? on the phone? in the lobby? for shipments?
Keep them updated on your progress. If you must keep your customer's waiting, then, at the very least, update them on your progress. Set their expectations. In my case, the nurse did set my expectations—but not in a good way. With her fingers crossed behind her back, she said, "The doctor will be with you in just a minute." That was basically a lie. What am I doing to update my customers on the status of their orders?
Apologize for poor service. It is amazing how forgiving customers can be if you simply acknowledge and apologize for the inconvenience or the delay you have created. If the doctor had said to me, "I am so sorry for your long wait today. I know your time is valuable, and we seriously dropped the ball here. I'm afraid we had several emergencies and were a little overwhelmed." What would this have cost him? Nothing. But I would have left feeling totally different. How good are we at apologizing when we blow it?
Give them an incentive to come back. I left vowing that I would never return to this doctor, although he said he wanted to see me in a year. It's not going to happen. With an apology and an incentive to come back, he could have salvaged the situation. "I know this doesn't compensate for your lost time, but I'd like to give you two free movie tickets, hoping in the future that you'll give us another chance." My total procedure cost $1,200. The movie tickets would have cost $20. This would have been a small investment to save a valuable relationship—and his own reputation. When we fail to deliver on our promise, what do we do to make it up?
Your product or service encompasses more than you think you are selling. It includes how you respond when you don't deliver on your promise. These problems can become great opportunities to salvage and even improve customer relationships. But only if you act thoughtfully and with intention.
Question: How are you doing in managing the total customer experience? Does your organization see every interaction as part of that experience?