This past weekend, I took the eight young men in my mentoring group on a retreat. It was the kickoff to our 2012 season.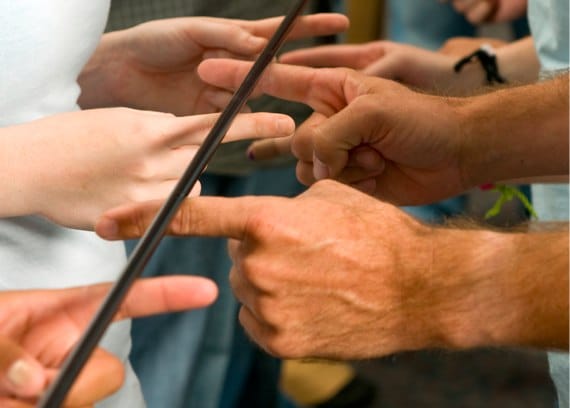 We went to Deer Run, a beautiful retreat center in the hills of middle Tennessee. The weather was absolutely gorgeous—mid-40s and plenty of sunshine.
We focused on the topic of life planning. Most of the guys had written a life plan, but we used the time to review the basics and update our work. (A life plan is never done. It must be updated on a regular basis.)
The most memorable part of the retreat for me was the low ropes course. Bob Elder, a local businessman, facilitated the experience and did an outstanding job.
He presented to us a series of five challenges that we had to solve together as a team. They became progressively more difficult as the afternoon wore on.
The last one—and the most difficult of the five—was climbing a twelve-foot wall. We had to get each man over the wall alive. All the men were permitted to help the others until they successfully scaled the wall. Then they could only watch.
This exercise took some serious teamwork and a deliberate strategy. But I'm pleased to report that every man made it.
Here are seven of my leadership take-aways from this experience:
Someone must step up and lead. I made it clear on the front end that though I was normally the leader of the group, I wouldn't be leading during these challenges. I expected them to figure it out. No one really led during the first exercise and it showed. Then the men started appointing a different leader for each challenge, and it made a huge difference.
The best leaders solicit ideas from their followers. As we quickly learned, being the leader didn't mean you had to have the best ideas. Each of the leaders started by asking the team for ideas. (We had a very creative group.) They gave each man a chance to express himself and then made a decision on the goal and the strategy.
Alignment is more important than strategy. The leader didn't always pick the best strategy. As team members, we were not always in agreement with the strategy. Regardless, we voluntarily aligned ourselves around the leader and did our best to execute on the selected strategy. Sometimes, we had to try multiple strategies. Still, we stayed together..
Trust makes everything easier. Most of the men in my my group have been meeting together for two years. Many of the men have gone through incredibly difficult life experiences. We have shared in one another's joy and pain. Through this, we have built trust—something we needed and used in each of the challenges.
Debriefing is essential to progress. After each challenge, Bob had us debrief on what he had learned. This was huge and dramatically improved our results with each successive challenge. So often, we fail to do this in life and in our work—and it shows. Perhaps we think we don't have time. But this actually saves time in the long run.
Almost any problem can be solved by teamwork. There were several times that I personally didn't see how we would solve the problem. This was especially true on the last one. But thankfully, I was not left to my own resources. Someone on the team always had an idea that worked. It made me relax and trust that we could figure it out together.
Working together is more satisfying than working alone. Going through these challenges was such a powerful, bonding experience. We were on the course for a little over three hours. It seemed like it was less than an hour. We had a blast, accomplished more than we could have done on our own, and grew closer together. It was a great reminder of the joy of teamwork.
I love reading books on leadership and attending seminars. But as helpful as these are, they are not the same as doing something together with a team. There are some things in life that are best learned by doing.
If you live in the Nashville area, I highly recommend taking advantage of Deer Run. If you don't live nearby, see if you can find a retreat center with a low (or even high) ropes course. It is well-worth the investment.
Questions: Have you ever taken your team through an alternative learning experience? What did you learn? You can leave a comment by
clicking here
.