In 1986 I started my own publishing company with Robert Wolgemuth. We had worked together at Word, Inc. and then at Thomas Nelson. Like a lot of young entrepreneurs, we had a big dream, a business plan, but few resources.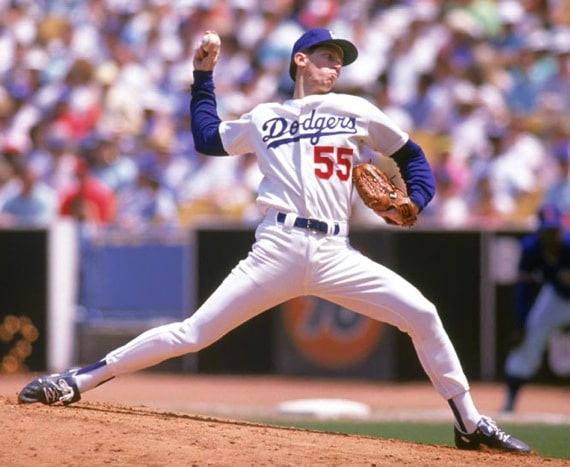 We raised enough money from investors to launch the company, but we were still strapped for cash. Regardless, we soldiered on, believing that God would bless our creativity, hard work, and commitment to excellence.
Our first big break came in 1988 when the Los Angeles Dodgers won the World Series. After the final game, Robert and I miraculously got an appointment with Orel Hershiser, the Dodgers' pitcher. We met with him in Washington, D.C. just after he met with President Reagan.
Our meeting went well. He hadn't considered writing a book, but we were able to talk him into it. He seemed genuinely excited.
After our meeting, we visited the Washington Redskins practice field together, where we met Coach Joe Gibbs and watched the Redskins practice. Orel was a major celebrity and everyone on the team wanted to shake his hand.
We then flew with Orel and his agent to New York by private jet where we had dinner together. It was heady stuff for a couple of young businessmen from Nashville.
We were really excited about the idea of publishing Orel's book, but we knew we would be in competition with the biggest publishers on the planet. They would surely drive up the royalty advance for the book, but we hoped against hope that we could make a favorable enough impression that he would publish with us in spite of the money.
A few days later, Orel's agent called us. He said, "I have great news. Orel would like to publish his book with you, provided you are willing to pay a royalty advance of $150,000."
Without a moments hesitation, we both said, "Absolutely. We're in!" We then promised to get him a contract the next day. We were pumped!
We hung up the phone and high-fived one another. After a few seconds, I said, "Only one problem … where are we going to come up $150,000?"
Robert laughed, "Oh, yea, that!"
We didn't know if we should celebrate or puke. It was one of those times in business where the line between success and disaster is razor thin.
Robert finally suggested that we call Jack, one of our investors, who also sat on our board. He said, "I'm sure Jack will lend us the money. This is a no-brainer."
A few minutes later, we had Jack on the phone. We shared with him our story of meeting Orel, and his agent's decision to give us the book. Jack was enthusiastic. "Way to go guys. I am proud of you!"
Robert then said, "Yea, only one problem, Jack. We need $150,000 for the royalty advance. We're confident this book will be a bestseller, so we just need a short-term loan. Can you help us out?"
We held our breath.
To our surprise, Jack said, "You bet, guys. This is going to be huge."
Robert and I pumped our fists and quietly mouthed the word, "Yes!"
"Just one thing I need you to do," Jack continued. "As part of the loan agreement, I need you to pledge your homes to me as collateral. If you are willing to do that, we can make this happen quickly."
Uh-oh. We didn't see that coming.
What Jack understood, and we eventually learned, is that having skin in the game makes it easier for everyone to win. I've seen it again and again—in life and in business.
When you have something significant at stake:
Your attention is focused. Winning or losing matters.
You work harder, because you have a stake in the outcome. If the book didn't work, we would lose our homes.
You won't walk away as easily. You have to fight until the bitter end. This is good for everyone involved.
As it turns out, we did agree to Jack's terms. He loaned us the money, and we published Orel's book, Out of the Blue. It landed on the New York Times list at #4 where it remained for several weeks. The whole process took less than ninety days from the first phone call to hitting the list.
Thankfully, we were able to repay Jack the money we owed him. Our wives were happy too, since we didn't need to move out and turn our property over to Jack. This was one of those times when everything just worked.
The moral of the story is this: if you want to accomplish big goals, you need to have skin in the game. You don't have to pledge your house, but you need to have something significant at stake. The more concrete you can make it, the better.
Questions: Think of your biggest goal right now. What is at stake if you achieve it? What is at stake if you don't achieve it? You can leave a comment by
clicking here
.