Taking Offices to the Next Level
"We really need an office space for our team." It's not something I ever expected to hear from our COO, Megan Hyatt Miller. After all, she loved working from home as much as any of us. I had recently stepped out of my role as Michael Hyatt's Executive Assistant into the new role of Senior Director of Operations when she approached us with the idea.
The team was growing rapidly. We were having to make big decisions daily about what kind of culture we wanted to create as we scaled up, from benefits to communications. My first response was not positive. Michael had originally envisioned an exclusively remote workforce for our team and that's what I had signed on for.
Like many who leave the corporate world, I'd had a grueling experience practically living in an office. I had also fallen in love with the freedom and margin that working from home produced. I just couldn't imagine going back to a stuffy office lifestyle, so when Megan pushed for this, I pushed back.
Megan patiently listened to my concerns, and Michael's concerns as well, and then presented her reasoning:
Though many of us now lived in the same city, our team was too big for most local meeting spaces, making group gatherings difficult.

We weren't as connected as a team as we wanted to be. You could only foster so much connection on quick Zoom meetings each week.

Some of our team members were just plain lonely during their work days.

We needed to collaborate more. We were missing out on the opportunities for ideation that happen organically when you're together in person throughout the week.
As I listened, I had to admit that she had good, solid points. The downside of not having a home base for the team was becoming increasingly obvious. We needed a physical space. But did we need the sort of culture that often goes along with a physical office?
A better way
Initially, we thought having a space would mean going back to a more traditional work environment. That changed in one dull flash of light.
We were touring one of several potential office space, discussing what mandatory office hours might look like for our team when Megan turned to me and said, "These fluorescent lights are literally making my soul sad. There has to be a better way."
She explained that she wanted to create a beautiful and inspiring environment and something else besides. She thought that it was vital that our team be allowed to hold onto much of the flexibility we had grown to love.
From that moment on, I was sold. We started dreaming and went to work.
We quickly abandoned any spaces that felt too corporate for us. We landed on a space in historic Franklin, Tennessee that boasted exposed brick walls. It was in rough shape, but it was only a few blocks from Michael's home and was within walking distance to many of our team's favorite restaurants and coffee shops.
So we locked it in, interviewed contractors, met with our architect, and took the design trip of a lifetime to Atlanta. At the end of 2017, demolition was under way.
Best of both worlds
Like something out of a reality renovation show, we ran into many snags as we gutted our historic space. But we persisted.
Finally, after months of renovation, the Michael Hyatt & Co. Office officially opened to our team this Summer. It is our hybrid solution to the remote work vs. corporate office dilemma we were facing and, let me tell you, we have found the best of both worlds.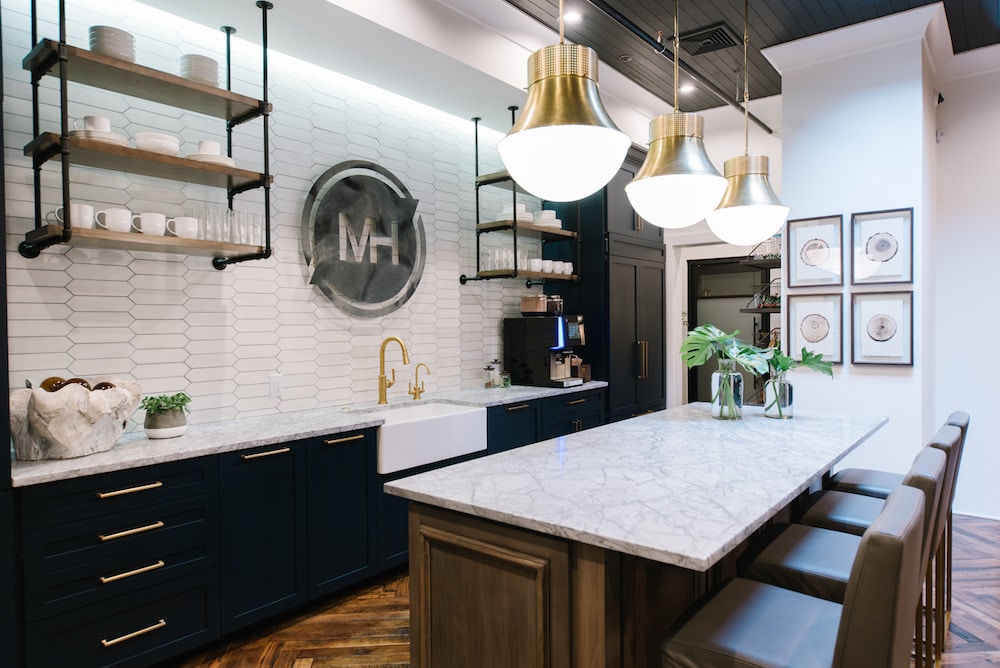 The office serves as our team's co-working space. No one has an individual office (not even Michael). It's a completely optional-use space, meaning everyone can still work from home and no one is required to be there. When you have a day where you need to get out of your home office or want to book a place to meet with your team, the office is there for you in all of its beauty.
And when I say beauty, I mean beauty, my friends. This space is truly the most inspiring workplace I've ever seen.
The design is inviting and warm with hints of southern charm and hospitality throughout (we're based in Tennessee, after all, y'all). There are some beautiful historical elements that are original to the space, blended with modern and whimsical touches. It has a very true-to-Nashville vibe.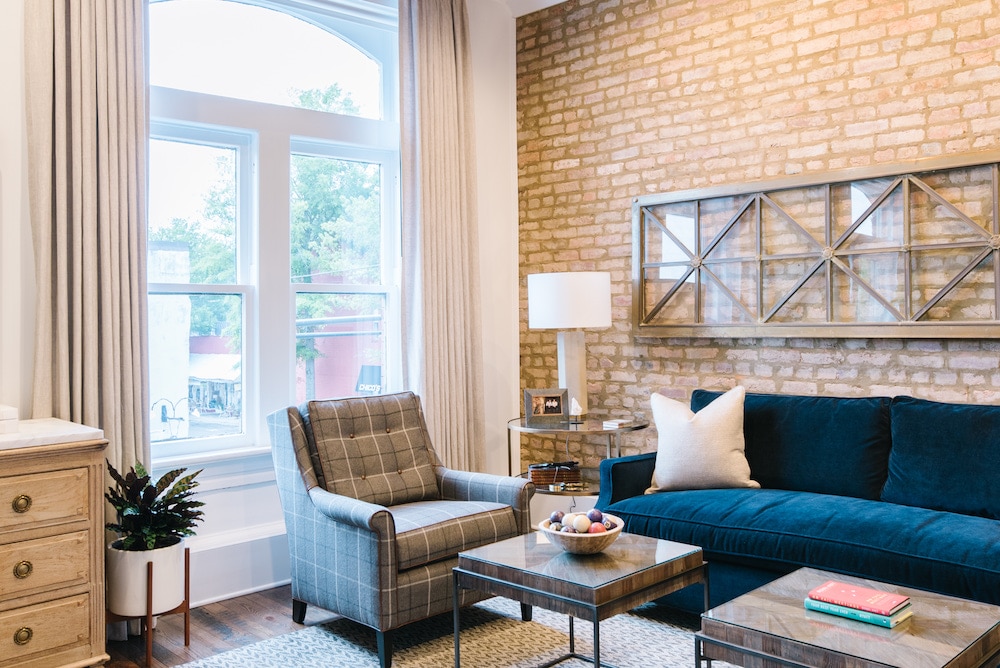 Michael has left his stamp on it too. The office is outfitted with the best technology including robust video conferencing systems, leading security access (no keys needed, just scan your phone), and lightning-fast Wi-Fi.
You can book any of the conference rooms using mounted iPads in the hallway or from your phone or computer using integration with Google calendars. The glass whiteboards mounted in every room are a dream for brainstorming—especially for a team who loves to blend analog with the best of technology.
Three zones
During the renovation, Megan decided we'd create three primary zones that represented the purpose of the space. When at the office, our team has a place to:
Create: This is a quiet space, much like a library, where people can quietly work on their most important projects. Stand up desks are provided, along with comfortable arm chairs and couches.

Connect: This is in the middle of the space. It includes the kitchen, a fancy coffee bar, lots of healthy snacks and beverages, plus places to eat and chat with our colleagues.

Collaborate: This is a series of spaces designed for interaction. We have one large table out in the open, two smaller "huddle rooms," and one large conference room. We've also provided three Zoom Booths that are for individuals to use for calls with people who may not be in the space.
Beyond the technology, snacks, delicious coffee, and beautiful design, my absolute favorite part of the space is the intentionality we've put into aligning it with our values. Our Core Values are visually represented with custom art pieces and are on display in our Collaborate space.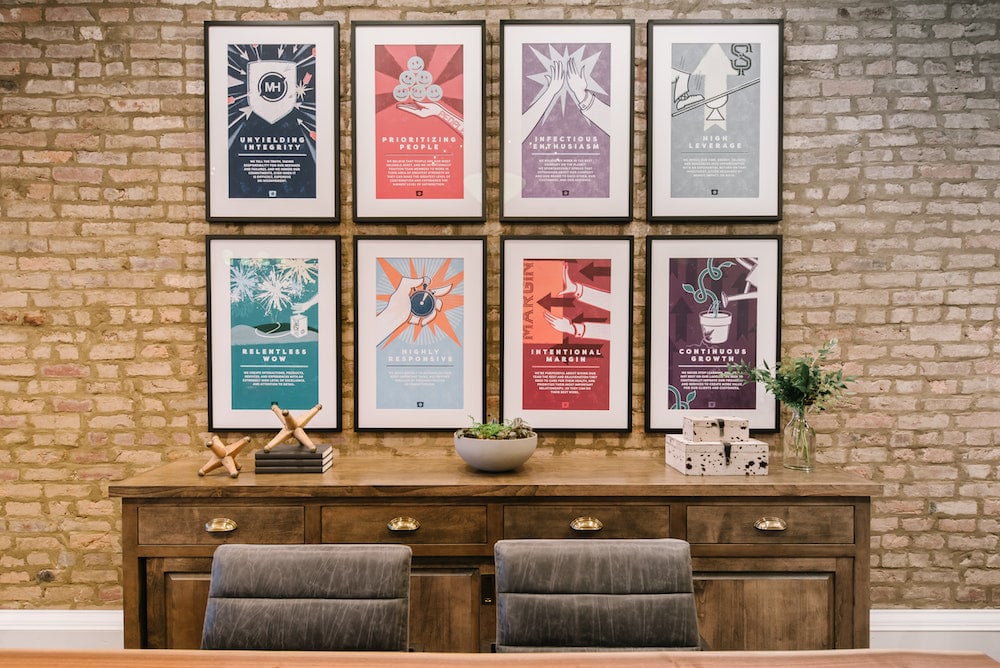 The shelves are staged with beautiful representations of our products. These products are placed right next to framed photos of some of our team's favorite memories together. This subtly communicates all that we've achieved together, while also highlighting our shared history and the strong relationships we've built while creating those products.
This connection to our values continues in the way we operate the office. It's closed on nights and weekends to help guard our core value of intentional margin. Our Zoom Rooms have fully frosted glass doors allowing them to dually serve as private spaces for our nursing mothers to use. We allow babies under 6 months to be at the office with their parents when needed, and we're fully stocked with fidget spinners and stress balls to hand out to visiting older kiddos (okay, we use them too!).
Whether we're being health-conscious in our snack selections or planet-conscious in our recycling program, this space represents our heart as an organization. It's been wonderful to see it come together.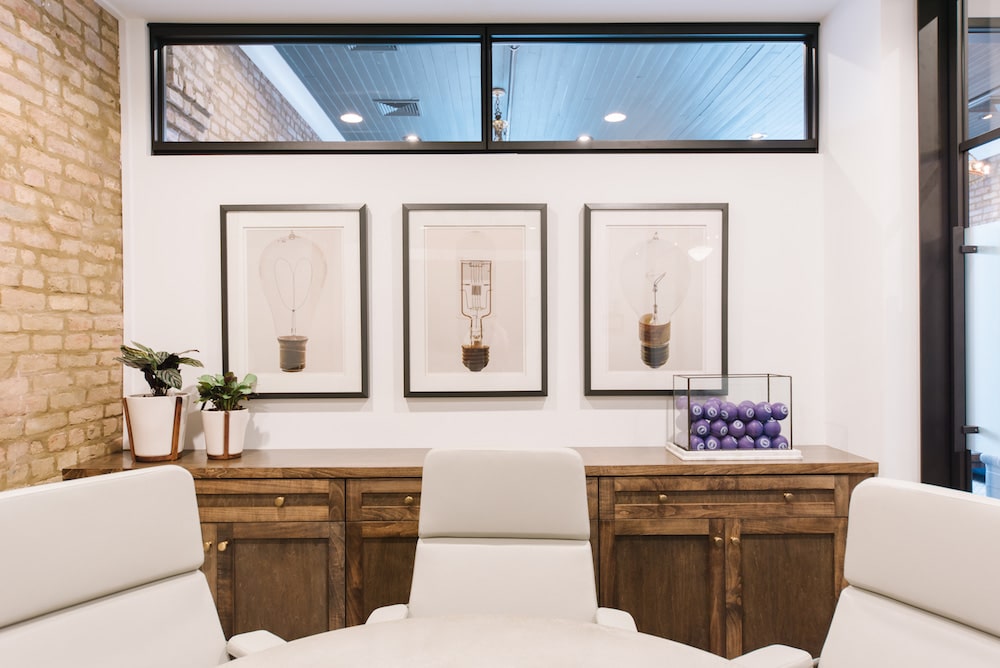 Where the work happens
When the new office was proposed, I worried. But I learned that worry was misplaced well before the office opened, as I worked alongside Megan and Michael to make it happen.
This is a company that cares deeply about team culture and we've become increasingly aware that the space where the work happens has a direct influence on our productivity, collaboration, and innovation.
This is an insight that you can use as well. You may not be looking to renovate a downtown office space with a fleet of contractors right this moment, but surely there is something you can do this week to make your workplace more inspiring. That's true whether you work at home, at the office, or some combination of the two.