How to Keep Track of the 10 Domains that Make up Your Life
One key for designing the future we desire is self awareness. A study study by Cornell University and Green Peak Partners found it was the single greatest predictor of success among executives. That goes for most of us.
Our lives have many domains. Consider your spirituality, psychological and physical health, family, friends, and work. It doesn't stop there. As Michael says, it's helpful to see our lives as consisting of ten interrelated domains: spiritual, intellectual, emotional, physical, marital, parental, social, financial, vocational, and avocational.
Struggling to keep track?
A critical insight is that these domains are interrelated. Each one affects all the others. Take work. Job stress can drain our physical and emotional energy, tax our closest relationships, devour our margin for recovery, and more. It's the same with our physical health and our families. How many people have you seen riding high until an ailment or a divorce brought everything to a screeching halt?
The trouble is visibility. True self awareness means we know how we're doing in all ten domains. Easier said than done, right? It's challenging to maintain focus on one area while keeping an eye on all the others. It's like a game of existential Whac-A-Mole.
A few of us don't even try. We pursue whatever comes easiest and forget the rest. But I bet most of us want much more out of life. We just struggle to keep our eye on so many moving targets. We want to build a strong marriage, give our best on the job, and stay connected to our kids—all while making room for friends and pastimes that help us rejuvenate.
We know most things don't get better on their own. Improvement takes attention. One tool that can provide the visibility we need is the LifeScore™ Assessment. This is a tool that lets you rate yourself in all ten life domains. It then assigns a numeric value to your answers and calculates your overall LifeScore™.
How far can you go?
The score let's you confirm what's working well already and spot opportunities for improvement. As Michael says, the LifeScore™ Assessment gives you the clarity you need to design the life you want. This is the third year we've offered the assessment, and one thing we love hearing is how it's already helped leaders, entrepreneurs, and others make progress toward designing the lives they want.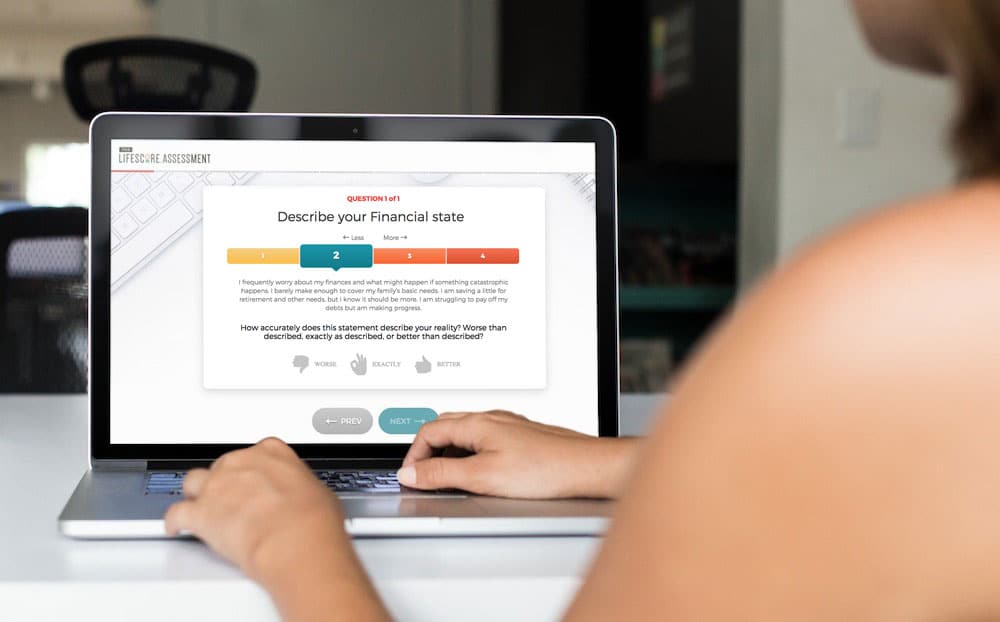 "The first time I took the LifeScore™ Assessment was a huge wake-up call for me," said Kelly Thorne Gore, founder and president of iBloom. "I was really strong in certain areas, and I was proud of that. There were certain areas where I was really frustrated." Seeing the gap gave Kelly insight into what needed her attention next. "That awareness was a defining point for me," she said. "It was realizing that I had to make some changes. And I was worth it. My family was worth it. It really was the catalyst for creating one of my best years ever."
"The LifeScore™ Assessment has meant everything to me," said Rick Kloete, president and managing partner for the Kloete Group, an executive search firm. Because of the assessment, "I knew where I needed the most improvement and what was most important."
Steve Anderson, a speaker and industry consultant on technology and its uses in insurance, said the assessment "is a great tool to help you understand more objectively than probably you can on your own where you stand in terms of your goals."
How far have you come?
The score not only tells you where you are, it can also show you how far you've come. "I am a numbers guy," Mark Timm, CEO of Cottage Garden and Ziglar Family, said. "That's one of the things that I think I liked about the LifeScore™ Assessment. It actually gave me a number I can use to benchmark my progress."
"Take it once," he said, "that's your baseline, and then take it again. . . . So you can measure the progress that you're making."
The future is built on the present. Our decisions and actions today contribute to the shape of tomorrow. But without a good sense of where we stand right now in all of life's domains, our decisions will be uninformed and our actions lopsided. The LifeScore™ Assessment gives us the insight and balanced attention we need to make significant progress across the board.
What's more, watching your score improve will help you stay motivated and engaged for the long haul.
How far will you go?
The LifeScore™ Assessment only takes about ten minutes to complete. Once you're finished, you'll get a score-specific report along with tips and strategies you can use to improve your number in the coming year. Best of all, the LifeScore™ Assessment is totally free—for a limited time. We're offering the assessment as part of the prelaunch promotion for the 2018 edition of our 5 Days to Your Best Year Ever course. After that, the assessment will only be available as part of the course.
Don't miss this chance to discover your LifeScore.™ It's fun, fast, free, and will give you the visibility you need to succeed in all of life's domains.