How Marriage Supports a Leader's Long-Term Success
History affords countless examples of great leaders made greater by the inspiration of a spouse. Of course, there are also plenty of seemingly successful leaders in the past who had bad marriages too. But in certain historical cases, you can see clearly how a long-lasting marriage helped turn a person into a giant in their field.
John and Abigail Adams
In colonial and Revolutionary America, perhaps the most compelling marriage was that of John and Abigail Adams. John could be stuffy and critical, and Abigail helped soften his sharp edges. More impressively, Abigail broadened and deepened the mental world of America's second president.
John realized the effect that Abigail had on him even before they got married in 1764. On the eve of their wedding, John confessed that he tended to "see nothing but faults, follies, frailties, and defects in anybody." But he told Abigail that she had "always softened and warmed my heart, [and] shall restore my benevolence as well as my health and tranquility of mind."
In long-running private conversations, Abigail got John to consider the broader implications of American liberty. The Founding Fathers tended to see the blessings of liberty as extending only to people like them: elite, white men. But Abigail pushed him to consider issues such as the hypocrisy of slavery. Why were the American Patriots fighting for liberty while "daily robbing and plundering from those who have as good a right to freedom as we have," she asked?
In her most famous letter to John, Abigail also pleaded for greater rights for American women, who were legal non-entities in 1776. A couple months before the Declaration of Independence was signed, she wrote that "I long to hear that you have declared an independence—and by the way in the new Code of Laws which I suppose it will be necessary for you to make I desire you would Remember the Ladies . . . Remember all Men would be tyrants if they could." Legal changes for women would be slow in coming, but it was essential for women such as Abigail Adams to put the issue on the American agenda.
Jonathan and Sarah Edwards
In the field of religion and theology, Jonathan Edwards stands as the towering figure in colonial America. Edwards's reputation has been tied to his dour-sounding sermon "Sinners in the Hands of an Angry God." But even secular experts regard Edwards as the most powerful theological writer in early America, if not all of American history.

Like John Adams, Edwards grew up in a conservative New England religious environment, and he could be prickly. Edwards's wife Sarah was not only an indispensable support for his writing and ministerial career, but she displayed depths of devotion to her faith that Edwards admittedly never experienced himself.
Edwards's most important writings were inspired by the Great Awakening of the mid-1700s. During that time, thousands of Americans came to renewed Christian faith through the preaching of Edwards and many other pastors. For Edwards, there was no greater spiritual exemplar than Sarah. She went through a multi-week extraordinary spiritual experience in 1742 during which she felt "a ravishing sense of the unspeakable joys of the upper world," or heaven. She became a key case study in one of Edward's most influential books on the Awakening, as she achieved a level of affection for God that deepened Edwards' own spiritual understanding.
Sarah Edwards was hardly a withdrawn mystic, however. In many ways, she lived a typical life of an eighteenth-century pastor's wife. They certainly had a busy house, with eleven children and a constant parade of visitors. Even during her ecstatic 1742 experience, there were a number of houseguests passing through the Edwards's home. Jonathan utterly depended on her. When Jonathan was dying in Princeton, New Jersey, in 1758, he most regretted that he would die while away from her. He told their daughter Lucy to tell Sarah "that the uncommon union, which has so long subsisted between us, has been of such a nature, as I trust is spiritual, and therefore will continue forever."
Margaret and Denis Thatcher
Until contemporary times, the husband in historic marriages was also typically the public figure in politics, religion, or business. But recent history affords more examples of female public figures, such as the great British prime minister Margaret Thatcher. Her long-lasting marriage to Denis Thatcher was an irreplaceable component of her unparalleled political success.
Denis and Margaret (Roberts) Thatcher were married in 1951. He was a businessman and divorcé, having entered an unfortunate brief marriage during World War II. Even his marriage to Margaret was not destined to be an easy one. We might take some comfort in the fact that the marriages that help make good leaders great are not always tranquil marriages.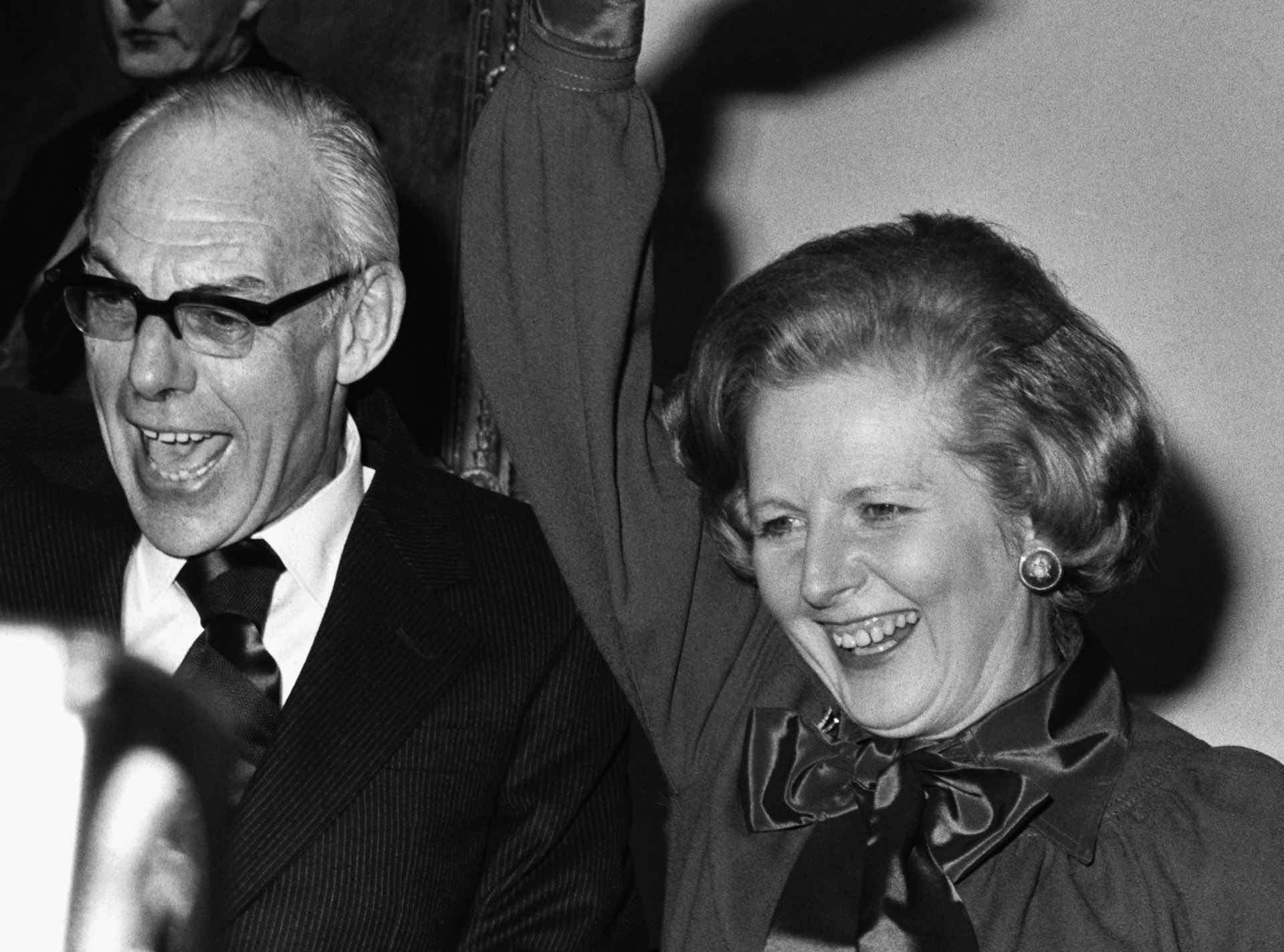 One of the hymns sung at the Thatchers' wedding said, "Lead us, heavenly Father, lead us o'er the world's tempestuous sea." As Margaret's biographer Jonathan Aitken suggests, this sentiment became a theme of their marriage.
In their early years, the couple struggled to reconcile the demands of Margaret's political ambitions with the demands of family life. Denis had his own demons to battle, once enduring some kind of nervous breakdown as their marriage teetered at the edge of collapse. But over time, it became clear that Denis developed into Margaret's one ever-steady confidant in the midst of Britain's political storms.
In 1979, Margaret became the first female British prime minister. One of her greatest challenges was the threat posed by the Irish Republican Army (IRA), a paramilitary group seeking to expel the British from Northern Ireland. This threat set the stage for one of the most frightening but poignant episodes in her relationship with Denis, the IRA's attempt in 1984 to assassinate Margaret.
An IRA operative planted a bomb at a hotel where the Thatchers were staying in Brighton, England. She narrowly avoided being killed when the bomb went off in the middle of the night. Her first thought was of Denis, who was in their bedroom. "I must see if Denis is all right," she said. He was, and Thatcher stoically went forward with a scheduled speech the next morning. "All attempts to destroy democracy by terrorism will fail," she proclaimed. Soon thereafter Denis bought Margaret a watch, attaching a note that read "Every minute is precious."
Driven leaders are often tempted to think of marriage and family as competing with career and success. But these examples from history suggest otherwise. We do often see sad reports of prominent figures whose families pay a price for a leader's success in business, sports, or other fields. But those with a more holistic view see that, aside from its joys on a personal level, a solid marriage can offer deep emotional and intellectual resources to undergird a leader's long-term success.