Last week, I spoke at the Re:create 2011 Conference in Franklin, Tennessee. This is an annual conference for Christian "creatives" (e.g., worship leaders, recording artists, book authors, actors, etc.). I talked about the #1 challenge these creatives face: becoming bitter over unwarranted criticism.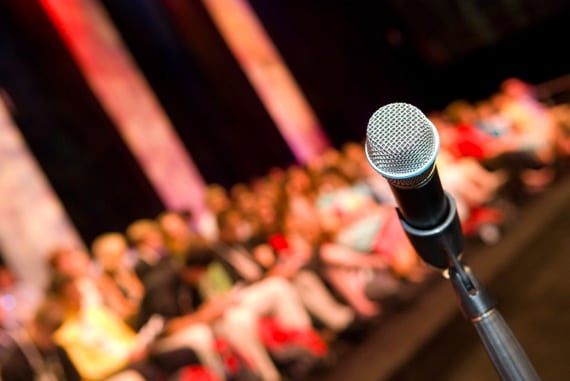 Photo courtesy of ©iStockphoto.com/Sean_Warren
A few days after the conference, my friend Ken Davis, who was also a speaker at the conference, gave me some valuable feedback on my speech. In addition to being an enormously gifted speaker himself, Ken is a speech coach. He also hosts the Dynamic Communicators Summit and the Professional Communicators Summit, two conferences designed for professional speakers.
I was eager to hear what Ken had to say, because he is one of my top five favorite speakers. I have also attended his Professional Communicators Summit and loved it. We sat down at a local restaurant for a one-on-one coaching session.
He was very affirming, but he also had five great suggestions for me. If you do any public speaking, perhaps these will be helpful to you, too:
State the benefit clearly. I had a pretty clear premise (I thought), but I neglected to make the benefits clear. In my speech I said, "There are three truths you must embrace in dealing with offenses." Ken said, "So what? What's the benefit?" A better premise is this: "If you want to realize your full potential as a Christian creative, you must embrace three truths about dealing with unwarranted criticism."
Cut my intro down. I had a good opening. It was warm and pretty funny. However, it was too long. Ken felt I should remove the information that people know or could discover in my public bio. Instead, I need to share the details they wouldn't know. This adds an element of surprise and connects me emotionally with my audience—especially if I can throw in some humor.
Use more personal stories. I had some personal stories, but Ken felt I needed more. I know he's right. This is my primary complaint with most of the speakers I hear. The problem is that it takes a lot of personal reflection to find great, relevant stories. Ken also suggested that the more I can share about my weaknesses, the more people will relate.
Engage the audience. I didn't engage the audience at all. Ken felt that this was a missed opportunity. He suggested I ask the audience questions. For example, before each major point, I could ask, "Do you want to realize your full potential as a Christian creative?" Then wait on a response. Then I could repeat my previous point and move on to the next one.
Craft the ending carefully. I had spent a lot of time on the beginning of the speech. (I had just finished a great book called Better Beginnings: How to Capture Your Audience in 30 Seconds that I found particularly helpful.) This is important, because first impressions really matter. However, the last impression is even more important. Ken reminded me that I need to spend as much time on the ending as the beginning.
I am really excited that I get to give this same speech soon. With Ken's help, I am hoping to take it to the next level. I have also registered for the Dynamic Communicators Summit. Ken's other workshop focuses on the business side of speaking. This one focuses on crafting the message. I can't wait!
Question: What are three adjustments you could make to your speaking to take it to the next level? You can leave a comment by
clicking here
.