Let's be honest. You ate too much high octane food during the holidays. The weather outside was bitter cold, so you ditched your exercise program. You haven't darkened the door of the gym since the week after Thanksgiving. And the scale doesn't lie: you've gained a few pounds.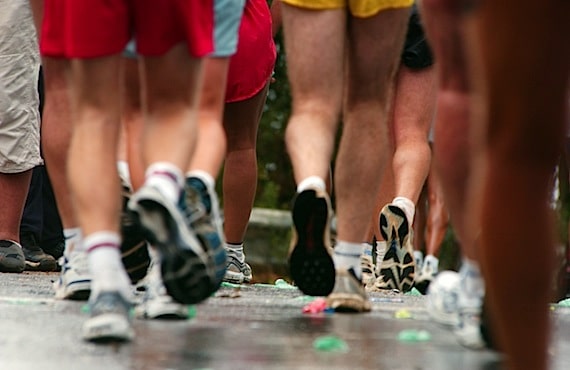 Photo courtesy of ©iStockphoto.com/millsrymer
This is the conversation I had with myself in the mirror on New Year's day.
It's time to start making good on my New Year's resolution and start training for the Country Music Half Marathon is scheduled for April 24, 2010. If you have had a similar conversation with yourself, maybe you should join me. I'd love to have you come along.
Here's why I think you should sign up, too:
You will lose weight. I know that's on many people's mind during this week. It is better and more healthy than a crash diet. We have had people in our company lose as much as 40–50 pounds just training for the half marathon.
You will get in the best shape of your life. Even if you are not exercising right now, you still have plenty of time to get in shape before April 24. You begin by walking. Some people chose to walk the race itself. Regardless, you will be surprised at how far you can come in just four months.
You will feel more energetic and productive at work. This is a benefit I didn't expect when I first started. I thought regular exercise—especially training for a half marathon—would sap my energy. It had exactly the opposite effect. I am never more focused and energetic than when I am in the middle of training.
You will have a positive way of dealing with the stress in your life. The stress of modern life takes its toll. The economic realities of the past two years haven't helped. Training for a half marathon will give you a positive outlet for your stress. You will even sleep better. Guaranteed.
You will have an incredible sense of accomplishment when you finish. There's nothing like crossing the finish line after running 13.1 miles, especially if you have never done it. The feeling is exhilarating. You will feel rightly proud of yourself.
You will gain the confidence to take on other challenges. This is one of the main reasons I love to run. It gives me the opportunity to tackle my biggest challenge—me. If I can overcome the mental obstacles I encounter on the way to the race, I can put those skills to use in other endeavors.
You will provide an example for others. True leadership begins with self-leadership. When you lead yourself, you inspire others to want to follow. Maybe it's a spouse, or a friend, or one of your children. They need to exercise, but they don't have an example to follow. You can be that example.
You can help raise money for a worthy cause. I am running on behalf of New Hope Academy. This is an incredible school in my neck of the woods that provides high-quality Christian education to underprivileged children. This takes running to a whole new level. It's no longer just about me, but about something significant that makes a difference.
Convinced yet? If you want to run, I suggest you start with the Jeff Galloway method. It's specifically designed for beginners. You can find his various training schedules here. It basically involves a program of walking and running. It allows you to incrementally improve over time without killing yourself.
Question: What other good reasons are there to sign up for the half marathon?