Social media has changed everything. It is now possible for you to take the thing you are most passionate about, create a social media platform, and build a real business that makes serious bucks. In his New York Times bestseller, Crush It! Why NOW Is the Time to Cash In on Your Passion, Gary Vaynerchuck shows you how. In a moment, I will tell you how to get a copy FREE.
If you can't see this video in your RSS reader or email, then
click here
First, who is Gary Vaynerchuk? He is the host of Wine Library TV and quite possibly the most passionate person on the planet. Think: human concentrate. Just add video and ba-bam. His energy level is illegal in seventeen states.
Gary's family immigrated from Belarus in 1978, when he was just a toddler. His dad started a discount liquor business in Springfield, New Jersey and encouraged his young son in his entrepreneurial exploits. While he hated school and did poorly, he excelled at business— especially marketing. He began with a lemonade stand, went on to a lucrative baseball card business, and then graduated to a spot in his family's retail wine business.
On February 21, 2006, at the age of 30, everything changed. Gary launched a video podcast called Wine Library TV. With his passion, humor, and transparency, he became a new media sensation. As a result, he was invited to appear on Late Night with Conan O'Brien, Ellen Degeneres, and Nightline. His Internet videos went viral.
I first discovered Gary by stumbling onto a video of a speech he had delivered. Frankly, I was turned off, mostly because of his coarse language. (He says he is working on cleaning up his act.) I turned it off after about 60 seconds and moved on.
However, when Crush It! hit the New York Times bestsellers list, I decided to give Gary another try. I downloaded the audio version of the book and listened to it while running. I totally bought into his philosophy of work and social media. With his obvious passion, real-world experience, and off-script comments and humor, I became a fan.
The premise of the book is simple: life is too short to spend it on a job you hate. Instead, you need to identify your passion, make use of social media tools to get your message out, and then build a business you love. Sound impossible? Gary did it, and he shows you how in his book.
Granted, he didn't start from scratch. His dad's liquor business was already doing about $4 million a year in revenue. But he took it from there and created a $60 million-a-year online business!
Crush It! is a quick and inspiring read. He discusses:
The role of passion in your life and work
How to build your personal brand
Why you must create great content
The game-changing possibilities of social media
The importance of authenticity in delivering your message
How to monetize your passion and create a new life for yourself
The book is short—only 142 pages. I savored every chapter. Even though I listened to the unabridged audio book, I have already started reading the print version. It is that good!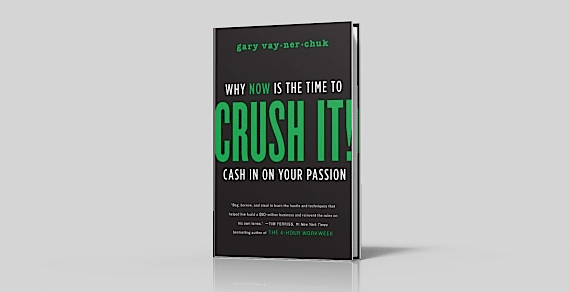 Just to prove how valuable I think this book is, I am recommending it to you despite the fact that it was not published by Thomas Nelson. It was published by HarperStudio, an imprint of HarperCollins. They have graciously made 50 copies of Crush It! available to my readers.
Notice: This offer is now over. I have picked 50 people to receive a free copy of Gary's book. I have none left. However, stay tuned for future offers. I am leaving the original text intact below for the historical record.
To get a chance at snagging one, you must take the following three actions:
Leave a comment below. Tell me why you want this book. Be creative. I really do read these comments and base my decisions on them.
Fill out the special form. I have set up a separate contact form to make it convenient for you to provide your mailing address. Please do not put your shipping address in your comment. This will automatically disqualify you.
On Friday, March 5, 2010, I will select 50 people, based solely on my arbitrary and subjective evaluation of their comments. If you are one of those selected, Lindsey Nobles on my team will notify you via email. If you don't hear from her, you can assume you didn't make the cut.
Question: Why do you want a copy of this book? If I give you a copy, do you promise to read it?